What is it like to work for the Flying Doctor?
Working with the Flying Doctor gives you the opportunity to make a real impact on the lives of rural Australians and truly help others. You'll work every day with people who are passionate about our purpose and proud of their contribution to our iconic organisation.
Exciting and Challenging
Working with the RFDS is an exciting and challenging role. Everyday is different.
Passion & Experience
Join a team of passionate, experienced professionals who are dedicated to improving health outcomes in rural Australia.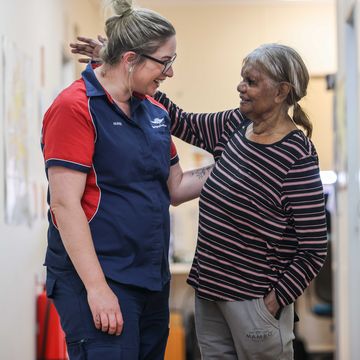 Part of the Community
The RFDS is a workplace for 'team players' who value honesty, integrity, respect, accountability and have patient care as their guiding passion.
Who do we employ?
Whatever their role, our team members work to bring vital healthcare to remote, rural and regional communities.
Health Services
Nurses, Doctors, Patient Transfer Drivers and Allied Health Professionals
Aviation
Pilots, Engineers, Operations
Corporate Services
Marketing & Public Relations, People & Culture, Corporate Services, Administration