Visit the RFDS
With the travel restrictions now easing, there are many places you can visit the RFDS around Australia! Stop into one of our many visitor centres to learn more about the diverse work of the RFDS. By visiting one of our tourist facilities you are supporting the work of the RFDS.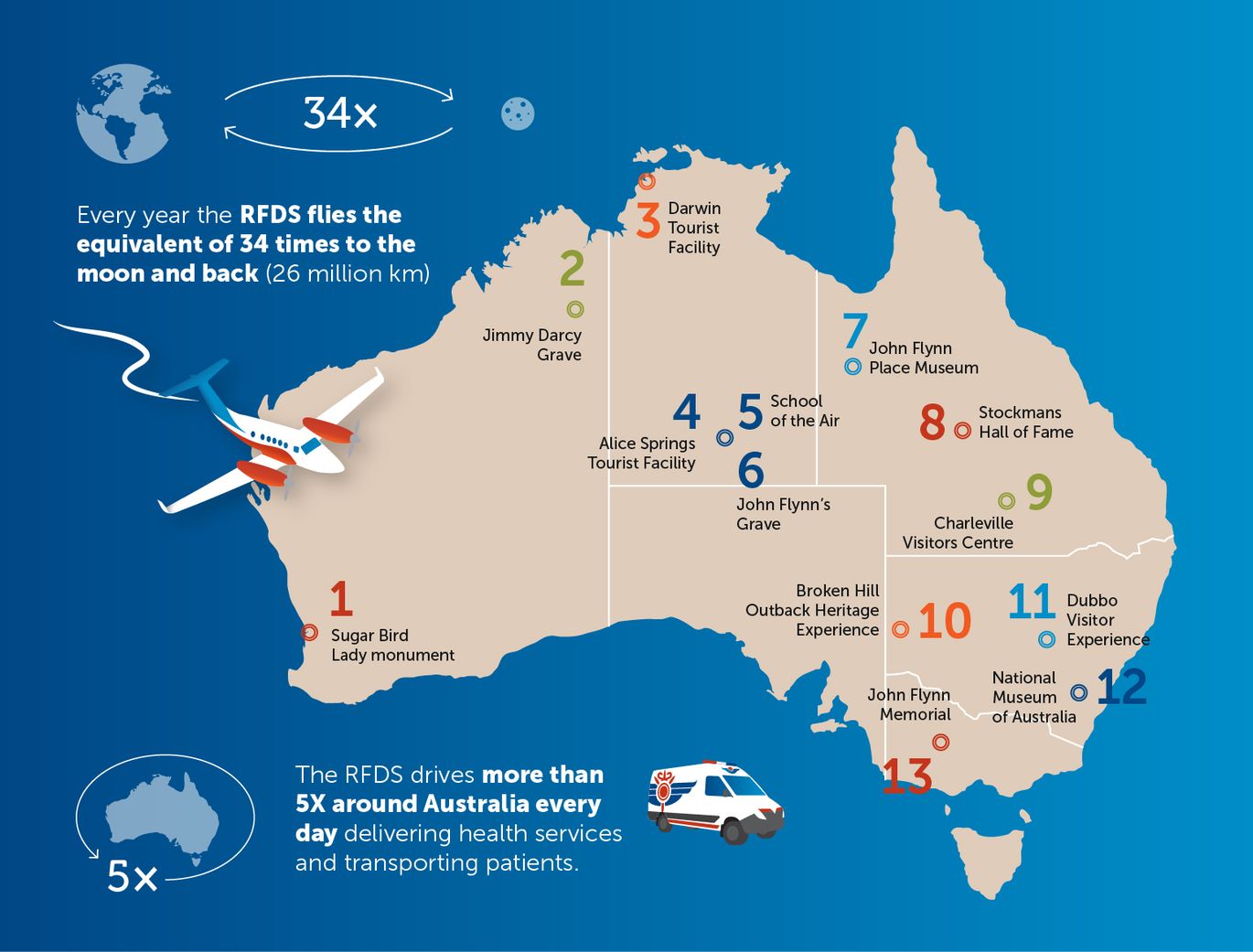 1. Sugar Bird Lady monument, Jandakot, WA
2. Jimmy Darcy Grave, Halls Creek
3. Darwin RFDS Tourist Facility, perched on Darwin's beautiful waterfront, this award-winning Tourist Facility tells the story of the Flying Doctor. Immerse yourself in the John Flynn hologram presentation and virtual reality experience and complete your visit by taking part in the 1942 WWII Bombing of Darwin exhibit at the same venue.
4. Alice Springs RFDS Tourist Facility, housed in Alice's original RFDS base, find out why the Flying Doctor remains so critical for those who choose to live and work in the bush. See and learn through the heroic tales of the service in Central Australia since 1939.
5. School of the Air, Alice Springs
6. John Flynn's Grave, Alice Springs, in the foothills of the MacDonnell Ranges outside of Alice Springs is Flynn's final resting place. The grave features a plaque concisely expressing a lifetime's achievements: "His vision encompassed the continent."
7. John Flynn Place Museum, Cloncurry
8. Stockmans Hall of Fame, Longreach
9. Charleville RFDS Visitors Centre, learn about the history of the RFDS and see how far we have come. Located next to the operational Charleville base which commenced operations in 1943 and services approximately 622,000 square kilometers of southwest Queensland - an area almost the size of the United Kingdom.
10. Broken Hill Outback Heritage Experience, uniquely located within a real-life working Flying Doctor base you can view RFDS team members take aeromedical emergency calls or track our aircraft fleet in real-time. Gain behind-the-scenes insight into where the RFDS TV show was filmed.
11. Dubbo Visitor Experience, an interactive and immersive exploration of the world of the RFDS. Touch down into the world of heroic doctors, nurses, pilots, and outback communities.
12. National Museum of Australia, Canberra
13. John Flynn Memorial, Moliagul
The Australian Outback offers spectacular scenery and the chance for a great adventure. But it is important to be ready for the rigours of travelling in isolated areas. Unfortunately, up to a quarter of the emergency medical evacuations that the RFDS carries out each year are the result of city travellers who get into trouble on their outback adventure.
Want to get a deeper insight into the challenges that exist for those that live, work and travel in the bush?